The only tool designed to meet the unique needs
of the advertising speciality industry!

Demo Video (4 Minutes)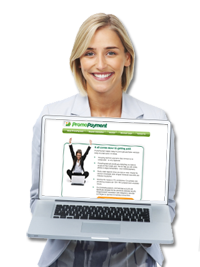 PromoPayment Includes:
Virtual Terminal – Process credit/debit card payments anywhere you have Internet access. No need for expensive credit card terminals, phone lines or add-on software. Easy to e-mail receipts, generate reports, research transactions, issue refunds, or get an authorization to ensure a transaction will go through. Includes unlimited user licenses.
ASI Product Integration – Secure Ecommerce integration for ESPWebsites, ProfitMaker & SmartBooks is already built in.
PromoPayment Plus:
Upgrade to PromoPayment Plus to add any of our enhanced
processing tools:
Swipe Point of Sale – Quick & easy-to-use POS application to swipe transactions via your computer. Eliminates need for credit card terminal by using inexpensive (under $60) MagStripe reader.
QuickBooks Plug-in – Process payments directly within QuickBooks Pro/Premier/Enterprise™. The plug-in allows you to process electronic payments that can be applied automatically to one or more customer invoices without ever leaving QuickBooks™.
iProcess™ Mobile App – Process payments anywhere with your Apple or Android phone or tablet. Provides convenient and secure processing of both keyed and swiped (requires Encrypted reader) transactions.
Level III Processing – Lower the costs of processing Corporate & Purchase cards by providing additional order data. Our integration with ASI Computer products (e.g. ProfitMaker) automatically sends Level III required data.
PromoPayment Vault – Provides secure storage of customer credit card or bank account data in our Level 1 PCI certified data facility. Once stored, you can initiate additional transactions without the need to enter the payment information again. It is the perfect solution for easily billing balances when items are shipped, or for handling repeat payments from customers.
PromoPayment QuickClick – Need to quickly and easily add one or more online payment buttons to your website? Just use QuickClick to generate customizable HTML code for Pay Online, Buy It or similarly named buttons that access a gateway hosted secure payment page. Your webmaster (or anyone with basic HTML knowledge) can add this to your website in minutes. All processing is done via our PCI certified gateway and no one needs to transmit, store or handle customer credit card data.
Advanced APIs – Integrating the PromoPayment Gateway with other applications is also possible. We can assist your website developer in using one of our state-of-the-art APIs or other integration tools such as our Authorize.net emulator.